Prat/Talk, 1998
Talk is an interactive installation and it gives the user a intriguing experience of communication in a the daily routine. Which sometimes can be a quite frustrating experience.
The visitor meets a fictive person. The user will never really learn to know this person as soon the conversation gets a little bit to personal, she starts to talk about something else. Sometimes with an already used subject. The topics are taken from the daily chat, for example the weather, sickness and kids etc.
The work has been exhibit at Galleri Rostrum, Malmö, 1999, Next 1.0, Karlstad, 2000 and at Dunkers Kulturhus, 2003.
[Swedish version]
Prat 1998
Prat är en interaktiv installation där betraktaren, genom ett förbryllande vardagligt samtal, upplever en allt för välkänd frustrerande situation. Det ytligt sociala intresse man kan möta från andra människor man inte känner så väl, men känner ändå. Människor man har hejat på länge och tycker man skall konversera med. Och så står man där, på en vernissage, eller vid baren, eller i kön på posten, – och så skall man prata. Jahaja, hur är det med dig då? Vad var det du höll på med? Oj, javisst det var det ju. Man kan bli lite kluven och lite lätt förtvivlad, men man slutar inte prata ändå. Och lyssnar artigt på det den andra har att säga.
Detta är inte enbart en negativ situation, men ett helt vanligt och nödvändigt steg i det sociala spel vi alla deltar i. Det spel där man agerar och interagerar för att lära andra att känna.
I detta verk har jag tagit utgångspunkt i min egen roll som utövande konstnär, men ändå försökt att fokusera på det faktum att detta beteende är en allmän företeelse.
Prat har visats på Galleri Rostrum, Malmö, 1999, Next 1.0, Karlstad, 2000 och Dunkers Kulturhus, 2003.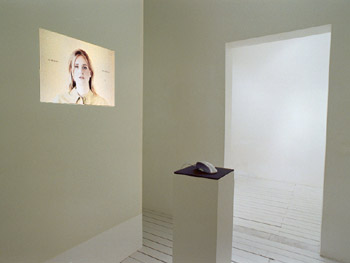 ki